Living Tree Orchid Essences
Essence Kit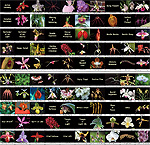 The full kit of the Living Tree Orchid Essences now (as of November 2013) consists of 127 stock essences. We offer the kit in three wooden boxes, which are stained purple. There are a total of 90 single orchid essences, and 37 combinations in the kit, along with one bottle of Narnia Sphagnum Moss, and two of our Living Isle rhododendron essences.
Click the image below for a larger view of the kit.
Spread the costs:
For our UK customers, one way to spread the cost of purchasing the Living Tree Orchid Essences Kit essences is to pay over 10 months.
You pay £184 up front, plus the carriage cost of £15, at which point we send you the full Kit. You then make a payment of £72 each month for the 9 months that follow. Please contact us to make the arrangements.
Another way to spread the cost is to buy the box of 37 Combination Essences, or the two boxes containing all of the 90 Single Essences. See details below.
ESSENCE REPERTOIRE

Tel: 01 583 505 385
We are open to receive telephone orders Monday through Friday
from 10 am till 5 pm except on Bank Holidays.
Achamore House
Isle of Gigha
Argyll, Scotland PA41 7AD