African Tree Essences
The Spike Thorn Gymnosporia heterophylla: full information page
Family: CELASTRACEAE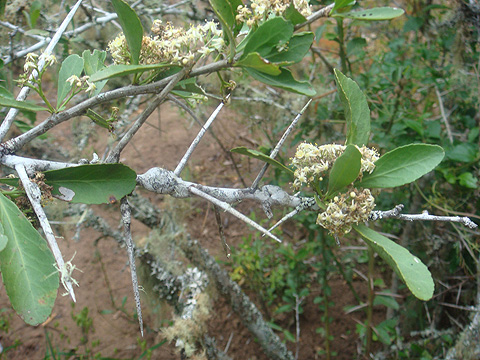 The spike thorn is a small growing tree to about five metres high. It occurs over a wide range of habitats and is often found nearby termite mounds. The bark of the spike thorn is grey and the tree is covered with sharp spines that range in length from three to five centimeters. These thorns leave a lingering tenderness should you be unfortunate enough to get impaled by one! The leaves vary in colour from pale to dark green.
20ml

Spike Thorn - Tree of Loving Kindness

£14.95 20ml

For gaining perspective and understanding in situations of feeling trapped, limited or stuck. For hard-heartedness, bitterness and meanness. Brings in compassion and enhances self expression.

Balances: Alienation, Anger, Embittered, Negativity, Lack of Patience, Rigid Thinking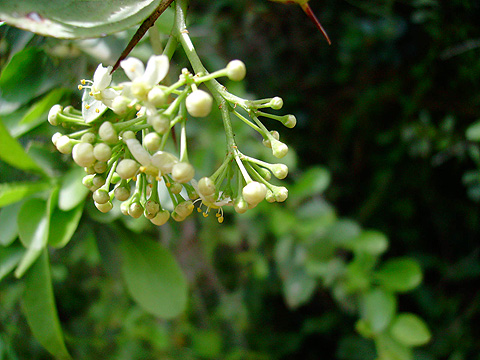 The flowers appear in late summer – clusters of creamy-white flowers borne along the short side branches. They have a strong scent that many people find over-powering and unpleasant. The flowers are followed by spherical, golden-yellow seed capsules.
The spike thorn is used for a number of traditional healing remedies: the thorns are boiled and used to treat pleurisy and bark infusions are made for easing stomach complaints. The roots have been used for coughs and chest colds and the thorns are also used as a cure for snake-bites.
At Platbos, the spike thorn creates dense thickets in pockets of disturbed ground around the forest edge. These thickets aid the natural reforestation of these disturbed areas as they prevent buck from grazing on the more palatable tree seedlings that grow up in between the thorns.
ESSENCE REPERTOIRE
Tel: 01 583 505 385
We are open to receive telephone orders Monday through Friday
from 10 am till 5 pm except on Bank Holidays.
Achamore House
Isle of Gigha
Argyll, Scotland PA41 7AD