Bloesem Remedies Nederlands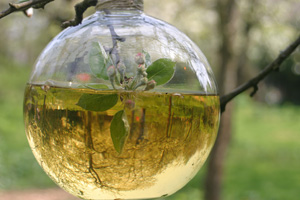 IFER has been proud to be the importer / distributor of the Bloesem Remedies since shortly after our company's founding in 1996. Over the years we have grown more and more deeply impressed with this range, which is made by Bram and Miep Zaalberg in southeast Holland. Working primarily with flowers and, in latter years, mushrooms which grow in their large 2-acre garden, they produce lovely and powerful vibrational remedies. If you have the chance to visit their premises, by all means do: they have a wonderful healing and teaching centre there, next to their beautiful garden.
The Terra emergency essence has been widely regarded as one of the finest emergency / rescue essences available, and is well known to Bram & Miep's fellow essence-makers. And by investigating the healing qualities of mushrooms as well as those of flowers, they have been extending Dr. Bach's work into new areas with wonderful results.
If you have not tried any of the essences from this range, then you are in for a treat. And if you know the range but have wanted to see larger photos of the flowers and mushrooms, then you too are in for a treat, as the small images are clickable to bring pop-up larger images. In any event, we at IFER feel honoured and privileged to bring these very fine remedies to you.
ESSENCE REPERTOIRE
Tel: 01583 505 158
Mob: 07584 729 204
We are open to receive telephone orders Monday through Friday
from 10 am till 5 pm except on Bank Holidays.
IFER
Tarbert Farm
Isle of Gigha
Argyll
PA41 7AA