Living Essences of Australia
The Living Essences of Australia were founded in 1977 by Drs. Vasudeva and Kadambii Barnao, who are based near Perth in Western Australia. Over the decades they have conducted significant pioneering research, including the topical application of essences on acupuncture points on the ears; the use of essences to relive pain and other physical ailments; and a method of preparing the mother tinctures without cutting the blooms - hence their name of the Living Essences of Australia.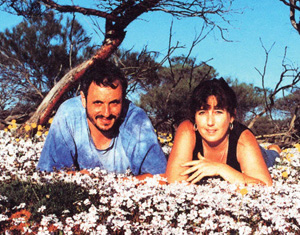 As a result of their research, their creams and lotions are used in over 18 hospitals in Australia. No other essence line in the world has brought essences into such mainstream use, and yet it was only by word of mouth that the use of their creams and lotions in hospitals came about. In one hospital a doctor kicked up such a fuss about these flower essence products being used in the hospital where he worked, that he forced a vote by the governing body - and was voted down. The creams and lotions are simply very effective, and have no contra-indications, and are relatively inexpensive.
The use of photo-cards for client diagnosis and for self-diagnosis, now fairly widely practised, also originated with Vasudeva and Kadambii. The fact that our rational mind can be by-passed through the use of a briefly-shown photo of a flower (in a set of flower photo cards) was first developed and taught as a very effective diagnostic technique by the Barnaos. As they both doctors of acupuncture, they are able to bring their knowledge of the meridians into their work and research, which adds considerable depth to what they offer to the world.
IFER has been proud to be the UK importer-distributor for the Living Essences of Australia since 1997. This is a major range of essences, with consistently high standards in the production of their essences, mists, and creams. We are sure you will enjoy learning about them, as well as benefit in using and working with them.
ESSENCE REPERTOIRE
Tel: 01 583 505 385
We are open to receive telephone orders Monday through Friday
from 10 am till 5 pm except on Bank Holidays.
Achamore House
Isle of Gigha
Argyll, Scotland PA41 7AD