Australian Bush Flower Essences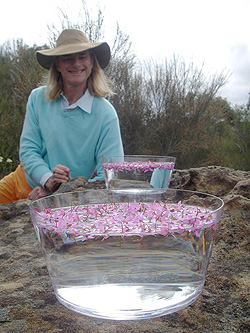 Australia is a land teeming with a rich and diverse flora, with many of its plants found nowhere else on Earth. Ian White was born and raised in Australia, and has done tremendous research since 1987 in preparing his flower essences in the tradition of Dr. Edward Bach. The Bush Remedies not only help to give clarity to one's life but also the courage, strength and commitment to follow and pursue one's goals and dreams. They help to develop a higher level of intuition, self esteem, spirituality, creativity and fun. The more the Essences are used, the more one is likely to experience greater awareness and happiness in one's life. Then everyone benefits .... the individual, society and the planet.
The effect of these Essences is similar to that of meditation in that they enable the person to access the wisdom of their Higher Self. This releases negative beliefs held in the subconscious mind and allows the positive virtues of the Higher Self - love, joy, faith, courage etc. to flood their being. When this happens the negative beliefs and thoughts are dissolved, balance is restored and true healing occurs.
Dr. Edward Bach conducted his work over sixty years ago through the use of (primarily) English flowering plants. Today our society and its needs are fairly different, and there has been a need for remedies that would help people deal with the issues of the 21st century - sexuality, communication skills and spirituality to name but a few. Ian sees his work as addressing these concerns of the modern era.
Please note: the International Flower Essence Repertoire (IFER) does not carry the White Light Essences produced by Ian White. We carry simply the flower essence range he has produced, and the combination products based on the flower essences.
ESSENCE REPERTOIRE
Tel: 01 583 505 385
We are open to receive telephone orders Monday through Friday
from 10 am till 5 pm except on Bank Holidays.
Achamore House
Isle of Gigha
Argyll, Scotland PA41 7AD